Anila's Curry Sauces
Anila's Authentic Sauces presents the masterpiece of Indian cuisine with its range of premium curry sauces. Based on traditional, Indian regional recipes these cook-in sauces represent quality and authenticity.
Winner of 11 Great Taste Awards including two * * * Gold Awards
Suitable for Vegetarians and Vegans
No Additives or Preservatives
Handmade with Fresh Ingredients
Gluten Free and Dairy Free
Onion Free and Garlic Free
No Added Sugar
Ambient with a 15 month shelf life
Curry Sauces available in 8 flavours
Pickles Chutneys and Dips available in 16 flavours
How to make a perfect curry the easy way – With Anila's Curry Sauces
Anila's Curry Sauces are concentrated and can be used to make curries easily giving a truly authentic home cooked taste and flavour. Simply heat a jar of sauce, add your chosen main ingredients and cook in the sauce for a few minutes. Then add almost the same amount of water and allow to simmer for 20 to 30 minutes. Garnish and serve. With 8 flavours of curry sauces to choose from there is something for everyone from mild and fragrant to the hot and spicy. You need only to taste them to appreciate the difference.
Have just tried your Spicy Hot curry sauce and it was fantastic. Real true integrated flavours. It has been a hit with the family. Well done and thank you for making something so special. Lorna
Anila's Products
Curry Sauces
Fruity Mild Curry Sauce (300g) - £4.00
Goan Green Curry Sauce (300g) - £4.50
Spicy Mild Curry Sauce (300g) - £4.00
Mild Korma Curry Sauce (300g) - £4.00
Spicy Korma Curry Sauce (300g) - £4.00
Spicy Medium Curry Sauce (300g) - £4.00
Spicy Hot Curry Sauce (300g) - £4.00
Hot Methi Curry Sauce (300g) - £4.00
Pickles
Lemon Pickle (220g) - £3.30
Sweet Mango Pickle (240g) - £3.50
Carrot & Date Pickle (200g) - £3.30
Sweet Lime Pickle (220g) - £3.30
Tindori Pickle (Mini Gherkin) (200g) - £3.50
Aubergine Pickle (200g) - £3.30
Chilli Pickle (185g) - £3.50
Hot Lime Pickle (200g) - £3.30
Hot Mango Pickle (200g) - £3.50
Chutneys
Spicy Apple Chutney (220g) - £3.30
Sweet Mango Chutney (250g) - £3.30
Shredded Mango Chutney (250g) - £3.50
Tamarind & Date Chutney (240g) - £3.30
Chilli Chutney (240g) - £3.30
Dips
Chilli Pasta Sauce (300g) Serves 4 - £4.00
Sweet Chilli Dipping Sauce (240g) - £3.30
Snacks
Spicy Cashews (125g) - £3.00
Truly Authentic Story
Born in Zimbabwe as the eldest of five children and the first grandchild, Anila started her culinary skills at a very young age, helping her great grandmother, grandmother and mum. She watched and helped her grandmother grind spices and make curries, pickles and chutneys and even poppadums.
Anila arrived in London in 1977 and qualified as a Medical Secretary. Armed with a background of Indian culinary skills she was spending her weekends cooking an array of dishes, snacks and sweets. Anila had a great interest in food and loved cooking interesting meals from all over the world. She started experimenting and adapting an age old recipe to create meals easily after work.
Anila has always been an advocate of efficiency and time reducing methods which first prompted her to make and store the sauce, to enable her to make a curry in minutes. Time was precious as a full time working mother of two and the sauce provided the perfect answer. Many hours were spent weighing, cooking, tasting and sampling before she perfected a quality sauce epitomising some of her qualities that encouraged her to start the business.
It enabled her to prepare a traditional Indian meal within half an hour. She is a perfectionist and a good judge; her cooking was always popular among friends and family for whom she frequently cooked elaborate meals. What surprised them was how well organised she was and how she could conjure up complex meals in little time – the secret was the sauce!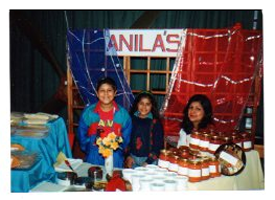 In early 1992 Anila had the idea to fill the sauce in jars and put the idea to colleagues at work. It was well received, and this encouraged her to make small batches for them and to sell to the community. In Easter 1992 Anila launched 4 varieties of curry sauce as a premium product at a craft fair with sampling. The success was phenomenal and well received by people with a busy lifestyle and those looking for an exclusive, authentic Indian taste in their own home.
In 1997 she was made redundant, which lead to her forming her own company sharing delicious tastes and flavours of Indian cuisine. "I love food and variety, as well as loving to experiment with different flavours and combinations enabling me to enhance the sauces, giving a variety of regional tastes."
Anila travels frequently to India and on one of her trips she spent 3 days in Goa from where she was inspired to make a green curry sauce. She created the sauce to be mild and fragrant to go with vegetables and seafood. This sauce is very popular and won the Silver Award in the Great Taste Awards 2006.
Also from Goa she was fascinated by the Tindli Pickle made from a vegetable called Tindori which is available in abundance throughout India under different names. The English name for it is Ivy Gourd. Anila produced this pickle and called it Tindori Pickle. This was so delicious that it won the Gold Award at the Great Taste Awards 2005 and went on to win the Best Speciality Award for the South East.
People often ask Anila why she does not use onion or garlic. This is due to the belief that these heat-producing foods can excite the passions and lead the mind away from a constant awareness of spirituality. Using neither garlic or onion in cooking increases clarity and focus in our mediation. Most Hindus are vegetarian and do not eat onions and garlic. Today there are many people who have an intolerance to both onions and garlic as well as sugar, dairy and gluten. As all our products are free from these ingredients they are suitable for those with food intolerances and serves a wider audience.
We cook in peace, so that the serene vibrations can infuse the food. We belss our food before we eat, giving thanks to the Giver of All.