Plant of the Week: Salvia
elegant, eye-catching lovelies you can't get enough of them. As well as packing borders with sturdy perennial salvias, fill containers to overflowing with Mexican sages, the showiest of the family.

Growing these exotic beauties in containers makes sense, as they don't cope well with cold and damp, so you can move them indoors over winter to protect them and keep them going for many years to come. Try 'Amistad', in a gorgeous maroon, 'Cambridge Blue' in translucent blue, or 'Black and Blue' for a touch of sultry indigo.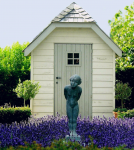 Having a small garden shed is quite common in many gardens especially in Ripley. However, a small shed in one of the garden's corners will only suffice to store away gardening accessories, tools and equipment. Usually a small shed will not even have room to store away garden furniture that i…
Read more »
Tasty turnips
Start sowing turnips again towards the end of the month, not for their roots but for their tasty, nutritious leaves
A. Luff & Sons Ltd
Welcomes you to Ripley Nurseries - Garden Centre and Farm Shop we are located on the Old Portsmouth Road coaching route between Cobham and Guildford just 2 miles from RHS Wisley in the Village of Ripley. Our Farm Shop is full of fresh produce and local products with a dedicated Florist and Garden Sundries department. We have been serving the local community since 1895 see our history page and among our patrons we served Sir Winston Churchill at Chartwell and Wimbeldon Tennis grounds.