Plant of the Week: Ornamental grasses
Prairie-style planting is all the rage just lately and is a gorgeous way to combine stunningly beautiful, natural-looking perennials like achilleas, salvias and rudbeckias with graceful grasses for a low-maintenance and dynamic display which reaches its crescendo in late summer.

It's a fantastic way to show off grasses at their best: after flowering, many grasses including miscanthus, tall stately Calamagrostis x acutiflora 'Karl Foerster' and Stipa tenuissima hold their seedheads into winter and look fabulous rimed in frost. Leave them all winter then trim them to the ground, along with the perennials growing alongside, in early spring before they burst into life and start the spectacle all over again.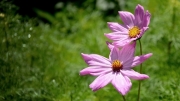 Filling your house with the colour and fragrance of fresh flowers cut from the garden is one of the great pleasures of gardening. The trouble is, though, if you take all the flowers from the garden, there's nothing left to look at outside.
The answer is to create yourself a cutting gard…
Read more »
Lifting vegetables
Lifting vegetables; you may have eaten most of your crop of potatoes, but if there are still some in the ground, they should be lifted now and stored for winter use. Autumn frosts and rain will ruin them if they are left in the ground. Dig them up with a fork, separate the potatoes, and leave them on the surface for a couple of hours to dry off. They should be stored in a damp, dry, and frost-proof place.
A. Luff & Sons Ltd
Welcomes you to Ripley Nurseries - Garden Centre and Farm Shop we are located on the Old Portsmouth Road coaching route between Cobham and Guildford just 2 miles from RHS Wisley in the Village of Ripley. Our Farm Shop is full of fresh produce and local products with a dedicated Florist and Garden Sundries department. We have been serving the local community since 1895 see our history page and among our patrons we served Sir Winston Churchill at Chartwell and Wimbeldon Tennis grounds.