Plant of the Week: Phlox
For sheer look-at-me wow factor it's hard to beat a border phlox. Tall and imposing among other flowers, they're the undisputed stars of the midsummer show when bursting into a froth of showy multicoloured blossom with a delicious honey-sweet perfume. Look out for pure white 'David', lovely azure 'Blue Boy' and lilac 'Franz Schubert'.

Give your phlox a rich, moisture-retentive but free-draining soil in part shade. Taller varieties are best staked – get your supports in place around now and they'll disappear among the foliage. Or grow more compact varieties like the 'Flame' series in shades from light pink to deep purple - also good for containers.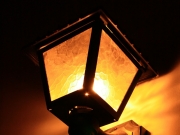 When you're working all day, sometimes the only time you get to spend in your garden is after dark, especially in the autumn and winter when the days are closing in.
There's no need to give up on your outside space, though. Design your garden to look just as good in the evening as durin…
Read more »
Avoiding nests
The breeding season for birds is well underway now, so take extra care to make sure you don't disturb any nests. Don't be tempted to peer inside any you find, to see if there are any eggs. Leave hedge trimming, and the pruning of bushy plants with nests in, until summer ; preferably August.
A. Luff & Sons Ltd
Welcomes you to Ripley Nurseries - Garden Centre and Farm Shop we are located on the Old Portsmouth Road coaching route between Cobham and Guildford just 2 miles from RHS Wisley in the Village of Ripley. Our Farm Shop is full of fresh produce and local products with a dedicated Florist and Garden Sundries department. We have been serving the local community since 1895 see our history page and among our patrons we served Sir Winston Churchill at Chartwell and Wimbeldon Tennis grounds.