Take a tour of our Farm Shop
Take a tour of our Sundries Store
Plant of the Week: Primrose
This diminutive little trooper gets its name from the Latin for 'first to flower' – and every year the first primroses to unfurl deliver their message that spring is just around the corner.
Wild primroses – Primula vulgaris – are expert at colonising wild patches on banks and under hedges and a must-have in wildlife gardens for their early nectar. But the primrose family also offers vibrant colours from orange to red and magenta: bedding primroses and multi-flowered polyanthus are brilliant at filling pots and baskets with cheerfulness at this time of year. Try partnering them with snowdrops, crocuses and early-flowering narcissi like 'February Gold' for a real early spring pick-me-up.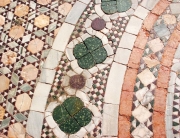 When you're planning the hard landscaping in your garden, don't be afraid to get imaginative. You don't have to stick to just one material, and you don't have to use stone or brick: there are dozens of ways to make your paving unique to you, and yourRipley garden will be far more personal…
Read more »
Neaten jasmine
Neaten up summer jasmine to keep them within bounds and encourage lots of deliciously-scented pure white flowers later this year. Remove weak, dead and damaged shoots, then thin overgrown plants by removing some of the older branches completely either at ground level or where they meet the main stems. Finally, tie the stems back into their supports to train them where you want them to go.
A. Luff & Sons Ltd
Welcomes you to Ripley Nurseries - Garden Centre and Farm Shop we are located on the Old Portsmouth Road coaching route between Cobham and Guildford just 2 miles from RHS Wisley in the Village of Ripley. Our Farm Shop is full of fresh produce and local products with a dedicated Florist and Garden Sundries department. We have been serving the local community since 1895 see our history page and among our patrons we served Sir Winston Churchill at Chartwell and Wimbeldon Tennis grounds.