A. Luff & Sons Ltd
Welcomes you to Ripley Nurseries - Garden Centre and Farm Shop we are located on the Old Portsmouth Road coaching route between Cobham and Guildford just 2 miles from RHS Wisley in the Village of Ripley. Our Farm Shop is full of fresh produce and local products with a dedicated Florist and Garden Sundries department. We have been serving the local community since 1895 see our history page and among our patrons we served Sir Winston Churchill at Chartwell and Wimbeldon Tennis grounds.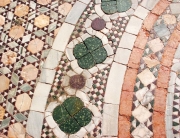 When you're planning the hard landscaping in your garden, don't be afraid to get imaginative. You don't have to stick to just one material, and you don't have to use stone or brick: there are dozens of ways to make your paving unique to you, and yourRipley garden will be far more personal…
Read more
Make life prickly for mice
Mice adore broad bean and pea seeds and snaffle them the moment you sow them outdoors. To keep them off, lay a thick mulch of holly prunings over the newly-sown seeds: remove it as soon as the seedlings appear.
Plant of the Week: Roses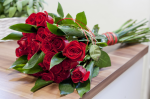 'A rose by any other name would smell as sweet', said the Bard, and whatever name they go by roses undeniably take the prize for the most delicious scent in the garden. Perfume adds yet another dimension to a flower already blessed with perfect petals in a kaleidoscope of romantic colours.
Since it's prime rose-planting time right now you've got the perfect excuse to add to your collection. From palest pink climber 'Madame Alfred Carriere' to swoon-inducing Bourbon rose 'Madame Isaac Pereire', there are dozens of roses which major on scent – so fill your garden with sweet, spicy perfume this summer!