A. Luff & Sons Ltd
Welcomes you to Ripley Nurseries - Garden Centre and Farm Shop we are located on the Old Portsmouth Road coaching route between Cobham and Guildford just 2 miles from RHS Wisley in the Village of Ripley. Our Farm Shop is full of fresh produce and local products with a dedicated Florist and Garden Sundries department. We have been serving the local community since 1895 see our history page and among our patrons we served Sir Winston Churchill at Chartwell and Wimbeldon Tennis grounds.
Your tools are your best friends in the garden. They'll stand by you through thick and thin: they're the first things you reach for at times of trouble, and your companions through your greatest triumphs.
Well-made, good-quality tools like those you'll find in our Ripley garden cen…
Read more
Keep mint within bounds
Always plant mint in a container as it's a rampant spreader which will rapidly swamp your herb garden. You can always sink it, pot and all, into the soil to make it look more natural growing among your other herbs. There are plenty of varieties to choose from: peppermint makes wonderful tea, while pineapple mint is prettily variegated.
Plant of the Week: Roses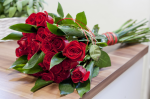 'A rose by any other name would smell as sweet', said the Bard, and whatever name they go by roses undeniably take the prize for the most delicious scent in the garden. Perfume adds yet another dimension to a flower already blessed with perfect petals in a kaleidoscope of romantic colours.
Since it's prime rose-planting time right now you've got the perfect excuse to add to your collection. From palest pink climber 'Madame Alfred Carriere' to swoon-inducing Bourbon rose 'Madame Isaac Pereire', there are dozens of roses which major on scent – so fill your garden with sweet, spicy perfume this summer!