Take a tour of our Farm Shop
Take a tour of our Sundries Store
Plant of the Week: Primrose
This diminutive little trooper gets its name from the Latin for 'first to flower' – and every year the first primroses to unfurl deliver their message that spring is just around the corner.
Wild primroses – Primula vulgaris – are expert at colonising wild patches on banks and under hedges and a must-have in wildlife gardens for their early nectar. But the primrose family also offers vibrant colours from orange to red and magenta: bedding primroses and multi-flowered polyanthus are brilliant at filling pots and baskets with cheerfulness at this time of year. Try partnering them with snowdrops, crocuses and early-flowering narcissi like 'February Gold' for a real early spring pick-me-up.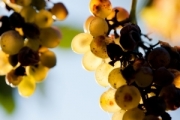 Of all the fruit you can grow in the garden, a grapevine is among the most productive and beautiful. All you need is a sunny wall, fence or pergola for it to scramble up and it'll cheerfully cover the whole thing with big elegant leaves turning brilliant colours in autumn, and of course fat cl…
Read more »
Super-early strawberries
Pop a glass or polythene cloche over a row of strawberry plants now to trap the early-spring sunshine so they produce super-early crops. An early variety like 'Honeoye' starts flowering soonest under these conditions
A. Luff & Sons Ltd
Welcomes you to Ripley Nurseries - Garden Centre and Farm Shop we are located on the Old Portsmouth Road coaching route between Cobham and Guildford just 2 miles from RHS Wisley in the Village of Ripley. Our Farm Shop is full of fresh produce and local products with a dedicated Florist and Garden Sundries department. We have been serving the local community since 1895 see our history page and among our patrons we served Sir Winston Churchill at Chartwell and Wimbeldon Tennis grounds.