Plant of the Week: Japanese azalea
For a real floral feast to take you into early summer, Japanese azaleas are a treat. These miniature evergreen rhododendron relatives are compact enough to fit into any garden – but they give a pyrotechnic display of colour out of all proportion to their size.

Look out for pure white 'Niagara', its frilly flowers blotched in pale green, and 'Irohayama' with lavender-tinted white flowers. For something brighter, 'Blue Danube' comes in deep mauve-violet, and the lipstick-pink flowers of 'Kermesina Rose' are edged in white. All azaleas need moist, acid soil to thrive, so if yours is neutral or alkaline grow in pots of ericaceous (acidic) compost.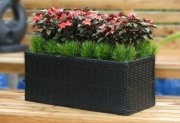 Combining plants in containers to make a display that looks good all year round is something of an art. It's fairly easy to create a fabulous display in summer: simply choose from the vibrantly colourful bedding plants available in our garden centre from late spring and have the best garden in…
Read more »
Staking perennials
Border plants are making good growth now but much of this can become vulnerable to damage from heavy rain and high wind. Therefore staking or supporting is important: use twiggy sticks (known as pea sticks), canes, round mesh or wire supports, or plastic-coated stakes to protect them. Make sure you do this before the damage is caused.
A. Luff & Sons Ltd
Welcomes you to Ripley Nurseries - Garden Centre and Farm Shop we are located on the Old Portsmouth Road coaching route between Cobham and Guildford just 2 miles from RHS Wisley in the Village of Ripley. Our Farm Shop is full of fresh produce and local products with a dedicated Florist and Garden Sundries department. We have been serving the local community since 1895 see our history page and among our patrons we served Sir Winston Churchill at Chartwell and Wimbeldon Tennis grounds.