Plant of the Week: Herbs
A generous supply of fresh herbs from the kitchen garden is, if anything, even more satisfying than vegetables. Often low-maintenance perennials, herbs are unstintingly prolific, providing as much as you can pick throughout the season to lend their spicy scents to your food.
Mediterranean herbs like rosemary, thyme, sage and marjoram need a hot, dry spot, but there are plenty of other herbs like parsley, mint and fennel which grow anywhere so don't worry if your garden isn't a sun trap. Sow generous containers of annual herbs, too, such as coriander, basil and parsley for aromatic greenery to use in salads and flavourings all year round.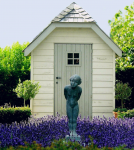 Having a small garden shed is quite common in many gardens especially in Ripley. However, a small shed in one of the garden's corners will only suffice to store away gardening accessories, tools and equipment. Usually a small shed will not even have room to store away garden furniture that i…
Read more »
Mowing tip
In milder parts of the country where temperatures are now regularly over 5˚C (41˚F) during the day, and where the ground is not waterlogged, mowing can begin. Adjust mower blades to the highest setting to prevent 'shocking' the grass on its first cut of the season. After the first cut, mow once a week (depending on weather), gradually lowering blades until the desired level is met.
A. Luff & Sons Ltd
Welcomes you to Ripley Nurseries - Garden Centre and Farm Shop we are located on the Old Portsmouth Road coaching route between Cobham and Guildford just 2 miles from RHS Wisley in the Village of Ripley. Our Farm Shop is full of fresh produce and local products with a dedicated Florist and Garden Sundries department. We have been serving the local community since 1895 see our history page and among our patrons we served Sir Winston Churchill at Chartwell and Wimbeldon Tennis grounds.