Plant of the Week: Dahlia
After a spell in the fashion wilderness, we've rediscovered the delights of exotic-looking Mexican dahlias – and now we can't get enough of them. The sheer variety is mind-boggling, from the charm and simplicity of single-flowered 'Bishop of Llandaff' to spiky cactus flowers, tight pompoms or romantic waterlily types, in every shade from palest cream to sultry deep purples.

Now is the time to drop established plants into your borders, filling gaps and adding a look-at-me splash of colour. Discover a few new varieties each year and you'll soon build up a collection of spectacular colour to jazz up your borders from midsummer till the first frosts.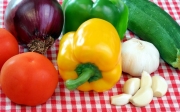 Short of space in your Ripley garden? Then this is the technique for you. All you need is a single raised bed to enjoy a wide variety of fruit and veg all year round. Here's how:
Build your raised bed: a raised bed: 1.2m x 1.2m gives you 16 squares – an…
Read more »
Checking tree ties
By this time in the season, woody plants will have had a growth spurt ; and their girths will have developed. It is important now to check that the ties securing young trees to their stakes are not too tight; if they are, they'll constrict the flow of sap in the tree and the tree will suffer.
A. Luff & Sons Ltd
Welcomes you to Ripley Nurseries - Garden Centre and Farm Shop we are located on the Old Portsmouth Road coaching route between Cobham and Guildford just 2 miles from RHS Wisley in the Village of Ripley. Our Farm Shop is full of fresh produce and local products with a dedicated Florist and Garden Sundries department. We have been serving the local community since 1895 see our history page and among our patrons we served Sir Winston Churchill at Chartwell and Wimbeldon Tennis grounds.