Plant of the Week: New Guinea impatiens
Busy lizzies are back – and now they're tropical! After the sad demise of the traditional busy lizzie (Impatiens wallichiana) due to disease, this handsome close relative, I. x hawkeri, has stepped in to fill the gap.

Just like busy lizzies, New Guinea impatiens are the ideal way to brighten up a shady spot with prolific blooms in day-glo colours – though they're also happy in a sunny spot too. The large, glossy leaves also turn heads, often coming in exotic shades of purple and bronze. Keep moist, feed with liquid seaweed once a fortnight and dead-head regularly to keep the blooms coming.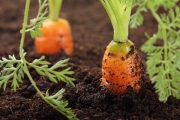 ​One of the real skills of good vegetable growing is the ability to time the cycle of sowing, growing and harvesting so you always have a steady stream of goodies to pick fresh from your garden in Ripley.
It takes good planning and a few canny tricks to make sure you always have just…
Read more »
Give citrus a summer holiday
Now the threat of a late frost is receding you can give tender citrus a summer holiday outside on a sunny patio. Moving lemon trees, calamondin oranges and limes outside rather than keeping them under cover helps them stay healthy as light levels are much higher and there's plenty of fresh air. But get them used to the drop in temperature gradually, leaving them out for a little longer each day until they're used to the new conditions.
A. Luff & Sons Ltd
Welcomes you to Ripley Nurseries - Garden Centre and Farm Shop we are located on the Old Portsmouth Road coaching route between Cobham and Guildford just 2 miles from RHS Wisley in the Village of Ripley. Our Farm Shop is full of fresh produce and local products with a dedicated Florist and Garden Sundries department. We have been serving the local community since 1895 see our history page and among our patrons we served Sir Winston Churchill at Chartwell and Wimbeldon Tennis grounds.