A. Luff & Sons Ltd
Welcomes you to Ripley Nurseries - Garden Centre and Farm Shop we are located on the Old Portsmouth Road coaching route between Cobham and Guildford just 2 miles from RHS Wisley in the Village of Ripley. Our Farm Shop is full of fresh produce and local products with a dedicated Florist and Garden Sundries department. We have been serving the local community since 1895 see our history page and among our patrons we served Sir Winston Churchill at Chartwell and Wimbeldon Tennis grounds.
Plant of the Week: Bleeding Heart
The romantic common name of this early summer beauty hasn't changed, although its Latin name has: now called Lamprocapnos spectabilis, you may be more familiar with its previous name, Dicentra spectabilis.

The plant is just as lovely by any name, though, its delicate, arching stems appearing as if from nowhere in late May, dripping with exquisite pink (sometimes white) heart-shaped flowers, each dangling from gossamer-thin stalks. The dainty, ferny foliage is just as delightful, and dies down naturally after flowering: plant other pretty woodlanders like hostas or ferns alongside to fill the space. Dicentra is easy to grow in sun or part shade, and prefers well-drained but moist soil.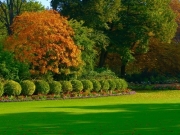 Natural planting using swathes of gently-swaying grasses shot through with drifts of tall, open perennials to mimic the wild look of the American prairie lands caught the imagination of gardeners across Europe in the 1990s, and it's been going strong ever since - you can see some fabulous exam…
Read more »
Aftercare for spring bulbs
Dead-head flowered spring bulbs so they don't put their energy into producing seed and put it all into bulking up the underground bulb and producing bigger, better displays next year instead. Leave the leaves loose to die back naturally so the bulbs will store up reserves, if necessary delaying mowing bulbs naturalised in lawns until six weeks after flowering finishes.