Plant of the Week: Herbs
A generous supply of fresh herbs from the kitchen garden is, if anything, even more satisfying than vegetables. Often low-maintenance perennials, herbs are unstintingly prolific, providing as much as you can pick throughout the season to lend their spicy scents to your food.
Mediterranean herbs like rosemary, thyme, sage and marjoram need a hot, dry spot, but there are plenty of other herbs like parsley, mint and fennel which grow anywhere so don't worry if your garden isn't a sun trap. Sow generous containers of annual herbs, too, such as coriander, basil and parsley for aromatic greenery to use in salads and flavourings all year round.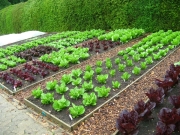 When you're starting out with your new veg garden and trying to decide what to grow first, the sheer variety of vegetables that opens up to you when you grow your own can be bewildering. You'll find so many different types in our garden centre in Ripley, from artichokes to zucchini, not to men…
Read more »
Deadheading daffs
Daffodils have again given a wonderful show ; but when they are nearing the end of their flowering don't forget to deadhead them; use your finger and thumb to snap off the old flowerhead, below the bulbous swelling at the base of the bloom. If the old flower is left on the stalk, the plant's energy will be used in the production of seed. Unless you want the seed to sow on ; which is tricky and a little pointless where amateur gardeners are concerned ; it is waste of the plant's energy, which can more usefully be point towards flower formation for the following year.
A. Luff & Sons Ltd
Welcomes you to Ripley Nurseries - Garden Centre and Farm Shop we are located on the Old Portsmouth Road coaching route between Cobham and Guildford just 2 miles from RHS Wisley in the Village of Ripley. Our Farm Shop is full of fresh produce and local products with a dedicated Florist and Garden Sundries department. We have been serving the local community since 1895 see our history page and among our patrons we served Sir Winston Churchill at Chartwell and Wimbeldon Tennis grounds.