A. Luff & Sons Ltd
Welcomes you to Ripley Nurseries - Garden Centre and Farm Shop we are located on the Old Portsmouth Road coaching route between Cobham and Guildford just 2 miles from RHS Wisley in the Village of Ripley. Our Farm Shop is full of fresh produce and local products with a dedicated Florist and Garden Sundries department. We have been serving the local community since 1895 see our history page and among our patrons we served Sir Winston Churchill at Chartwell and Wimbeldon Tennis grounds.
Having a small garden shed is quite common in many gardens especially in Ripley. However, a small shed in one of the garden's corners will only suffice to store away gardening accessories, tools and equipment. Usually a small shed will not even have room to store away garden furniture that i…
Read more
Open the vents
When the sun comes out now, a greenhouse can heat up rapidly. To ensure that young plants and seedlings (or even plants that are overwintering in the greenhouse) don't overheat, it's a good idea to open the vent in the morning and close it up again at night. This also applies to any plants growing in a conservatory.
PLANT OF THE WEEK: RHODODENDRON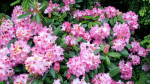 The shadiest corner of your garden becomes the highlight of your spring display when you plant a rhododendron – probably the most brilliantly-coloured of all the early-flowering shrubs with masses of sumptuous blooms in every hue from deepest scarlet to magenta pink.
All varieties of rhododendron like a moist, acidic soil and dappled shade, where they'll make a sizeable and very showy shrub in time. If space is limited, or you garden on neutral or chalky soil, don't worry: you can still enjoy rhodies. Just choose a compact variety bred to thrive in containers filled with ericaceous (acidic) compost for an equally spectacular display each spring.