Plant of the Week: Japanese anemone
Bring your late summer garden to life with generous drifts of Japanese anemones – the ultimate in low-maintenance, high return perennial. Flowers begin opening from late July and carry on well into winter: if you don't dead-head the seed-heads become little greeny-yellow bobbles dancing above the winter border on long, wiry stems.

There are two kinds to look out for: first into flower is Anemone hupehensis, including bicoloured 'Hadspen Abundance' and deepest pink 'Prinz Heinrich'; later they're joined by A. x hybrida varieties such as pure white 'Honorine Jobert' and rose-pink 'September Charm'. Plant as many as you can: it's one of the best perennials you can grow.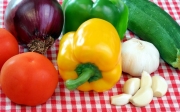 Short of space in your Ripley garden? Then this is the technique for you. All you need is a single raised bed to enjoy a wide variety of fruit and veg all year round. Here's how:
Build your raised bed: a raised bed: 1.2m x 1.2m gives you 16 squares – an…
Read more »
Collecting Leaf Litter
As October marches on colder temperatures and increased leaf fall mean autumn is well and truly underway. Collect up fallen leaves and store them either in simple metal cages or leaf litter sacks to turn into useful leaf mulch for potting next year. You can store leaves in refuse sacks but be sure to puncture the bags to allow air to circulate. The best leaf litter comes from Beech, Oak and Hornbeam however almost any leaves can be used but may take longer to decompose. ;
A. Luff & Sons Ltd
Welcomes you to Ripley Nurseries - Garden Centre and Farm Shop we are located on the Old Portsmouth Road coaching route between Cobham and Guildford just 2 miles from RHS Wisley in the Village of Ripley. Our Farm Shop is full of fresh produce and local products with a dedicated Florist and Garden Sundries department. We have been serving the local community since 1895 see our history page and among our patrons we served Sir Winston Churchill at Chartwell and Wimbeldon Tennis grounds.