A. Luff & Sons Ltd
Welcomes you to Ripley Nurseries - Garden Centre and Farm Shop we are located on the Old Portsmouth Road coaching route between Cobham and Guildford just 2 miles from RHS Wisley in the Village of Ripley. Our Farm Shop is full of fresh produce and local products with a dedicated Florist and Garden Sundries department. We have been serving the local community since 1895 see our history page and among our patrons we served Sir Winston Churchill at Chartwell and Wimbeldon Tennis grounds.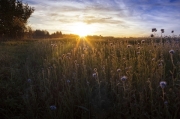 Leaving soil bare to the elements for any length of time is a recipe for disaster. Soil structure is a delicate thing, and if it's pounded into a hard cap by relentless rain, baked by the sun and then colonised by tough, hard-to-eradicate weeds it's no wonder you struggle to get anything to gr…
Read more »
Plant out poppy anemones for a flush of colour in June and July
Anemone coronaria varieties are a great subject for summer borders and containers. Corms planted now will provide colourful poppy-like flowers through June and July, but unlike many sun-loving summer bulbs they can also be planted again in June for colour lasting through to October. In milder areas they can even be planted out in September under cloches for late winter flowers in 2011. For successful sprouting, soak the withered-looking corms in water for 24 hours. To plant, choose a sunny spot with free-draining soil. If working in very heavy or sandy soil add humus-rich bulb compost to the planting site. Plant at a depth of 2in (5cm), spacing each corm 6in (15cm) apart. Poppy-like flowers will appear on stems up to 12in (30cm) tall over a mass of parsley-like foliage. Flowers will start out bowl-shaped, flattening as they mature. Anemone coronaria are great cut flower options. Although the blooms have a fairly short vase life, their iridescent blue, red, magenta, pink and white forms are a worthy addition to displays. A.'De Caen' is perhaps the most common variety, producing single flowers. For a double-flowered form try A. 'St Brigid'. Both are available from good garden centres, or by mail order from 8flowerbulbsinc.co.uk part of Dutch-based Koeman Flowerbulbs (London-based voicemail service: 0203 318 4418) Quick tip: Anemone coronaria hails from the Mediterranean. As such it should be planted in full sun in free-draining soil.