Take a tour of our Farm Shop
Take a tour of our Sundries Store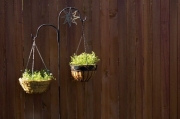 Hanging baskets make a bright splash of colour against a wall or fence, filled with brilliant scarlet pelargoniums or tumbling begonias. But don't just stick to bedding plants this year: try planting baskets which are productive as well as beautiful.
Edible hanging baskets are a great w…
Read more »
Protect peaches
Cover peach trees and nectarines growing outside with plastic sheeting draped over a wooden frame to keep rain off. Raindrops carry the fungus which causes peach leaf curl, so keeping the rain off protects your trees from this debilitating disease.
A. Luff & Sons Ltd
Welcomes you to Ripley Nurseries - Garden Centre and Farm Shop we are located on the Old Portsmouth Road coaching route between Cobham and Guildford just 2 miles from RHS Wisley in the Village of Ripley. Our Farm Shop is full of fresh produce and local products with a dedicated Florist and Garden Sundries department. We have been serving the local community since 1895 see our history page and among our patrons we served Sir Winston Churchill at Chartwell and Wimbeldon Tennis grounds.