Take a tour of our Farm Shop
Take a tour of our Sundries Store
Plant of the Week: Heathers
Heathers may be modest little plants, but at this time of year they really earn their keep. Carpets of white, pink, red and purple flowers over a background of evergreen foliage are a sight for sore eyes as winter slowly recedes: partner with early bulbs such as snowdrops and crocuses for a positive firework display of colour.

Choose from three main types: Ericas are the classic heather and most need acidic soil (E. carnea is the useful exception). Daboecias have larger flowers and will cope with any conditions. Both bloom from November to March – but there's another heather, Calluna, which flowers in late summer into autumn.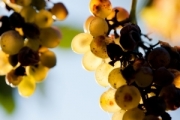 Of all the fruit you can grow in the garden, a grapevine is among the most productive and beautiful. All you need is a sunny wall, fence or pergola for it to scramble up and it'll cheerfully cover the whole thing with big elegant leaves turning brilliant colours in autumn, and of course fat cl…
Read more »
Force rhubarb
Start forcing your rhubarb now. Remove any plant debris or weeds from around the rhubarb and then place a plastic bin or a traditional forcing pot over the top of the crowns, and plug any holes to exclude light. Once the stems get reach 8-12in (20-30cm) you can harvest them.
A. Luff & Sons Ltd
Welcomes you to Ripley Nurseries - Garden Centre and Farm Shop we are located on the Old Portsmouth Road coaching route between Cobham and Guildford just 2 miles from RHS Wisley in the Village of Ripley. Our Farm Shop is full of fresh produce and local products with a dedicated Florist and Garden Sundries department. We have been serving the local community since 1895 see our history page and among our patrons we served Sir Winston Churchill at Chartwell and Wimbeldon Tennis grounds.