A. Luff & Sons Ltd
Welcomes you to Ripley Nurseries - Garden Centre and Farm Shop we are located on the Old Portsmouth Road coaching route between Cobham and Guildford just 2 miles from RHS Wisley in the Village of Ripley. Our Farm Shop is full of fresh produce and local products with a dedicated Florist and Garden Sundries department. We have been serving the local community since 1895 see our history page and among our patrons we served Sir Winston Churchill at Chartwell and Wimbeldon Tennis grounds.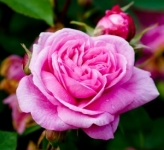 Britain's best-loved flower, roses are found in almost every garden in the country especially in Ripley. And it's little wonder: they're elegant, stately plants that just take your breath away as soon as they flower, with those heartbreakingly beautiful petals and perfume to fill the garden an…
Read more »
Evergreen value
Evergreen perennials are fantastic value in the garden: big, handsome Euphorbia robbiae, bergenia and hellebores offer greenery right through winter as well as flowers and often a flush of burgundy colour to the leaves in autumn. Now is the time to give them a quick tidy-up, though: remove flowered stems right to ground level and take off any old or tattered leaves to keep them looking smart.