A. Luff & Sons Ltd
Welcomes you to Ripley Nurseries - Garden Centre and Farm Shop we are located on the Old Portsmouth Road coaching route between Cobham and Guildford just 2 miles from RHS Wisley in the Village of Ripley. Our Farm Shop is full of fresh produce and local products with a dedicated Florist and Garden Sundries department. We have been serving the local community since 1895 see our history page and among our patrons we served Sir Winston Churchill at Chartwell and Wimbeldon Tennis grounds.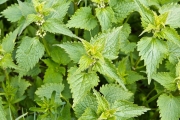 Weeds, so the saying goes, are just plants in the wrong place. The trouble is, there are so many of them. However much you might think dandelions are pretty, or ground elder has elegant leaves, if you stop to admire them too long you (and your plants) will quickly be overrun.
You'll pro…
Read more »
Sow annuals to overwinter
Put in a late sowing of annual flowers like pot marigold, cornflowers and love-in-a-mist (Nigella damascena) and they'll spend the winter as tiny seedlings before exploding into growth next spring. With the head start on spring-sown annuals they flower up to a month earlier, extending your summer display.