Plant of the Week: Rhododendrons
It's time for the most spectacular firework display in the gardening calendar, as rhododendrons and azaleas burst into bloom filling the garden with day-glo colours.

These days you don't need a huge garden to enjoy these late-spring superstars: the new 'yak' (yakushimanum) varieties grow happily in the smallest of spaces, even in containers. Buy them in full glorious flower right now from our garden centre: particularly lovely varieties to look out for are 'Sneezy', in bright pink, pure white 'Blewbury', and soft lilac 'Ernest Inman'. None reach more than about 1m tall and enjoy a roomy pot – about 35-45cm – and ericaceous (lime-free) compost.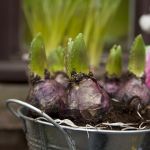 It's almost as if bulbs were invented for containers: they grow happily despite the restricted environment, look fabulous and come back year after year.
Make the most of your container bulbs with our top display tips.
Masses of tulips: at their most striking plan…
Read more »
Scarifying grass
If you haven't done it so far this spring, your lawn could benefit from a raking right now with a wire-rined rake. Work over the grass in two directions , the second at right angles to the first. The idea is to extract dead grass (called 'thatch') and moss. It will also lift some straggly grass stems for more efficient cutting. ;
A. Luff & Sons Ltd
Welcomes you to Ripley Nurseries - Garden Centre and Farm Shop we are located on the Old Portsmouth Road coaching route between Cobham and Guildford just 2 miles from RHS Wisley in the Village of Ripley. Our Farm Shop is full of fresh produce and local products with a dedicated Florist and Garden Sundries department. We have been serving the local community since 1895 see our history page and among our patrons we served Sir Winston Churchill at Chartwell and Wimbeldon Tennis grounds.