CUSTOMER NOTICE - Coronavirus (COVID-19)
Please Note the Garden Centre and Sundries Store are CLOSED for the sale of any goods or products
THE FARM SHOP REMAINS OPEN for ESSENTIAL FOOD ONLY
ONE CUSTOMER PER VISIT
With regret, we are unable to process any further orders. The volume of orders we received yesterday morning took till 19:00 hrs to complete even with the shop shut and all staff picking and packing. We simply do not have the Staff, Storage or Working Space to facilitate picking orders and consider the best way we can serve the community is to manage customers through our till heads on a controlled queue system of 1 in 1 out basis.
When shopping for food essentials, please be considerate to others and queue 2 meters apart until invited to enter the shop.
We are limiting the number of customers in the Farm Shop at any one time and allow only shopper per visit, please do not to visit with children, family and friends as they will be turned away or ask to stay in your car. We are operating a ONE in ONE out queue system. Please adhere to the Government's social distancing policy.
These are unprecedented circumstances and all our staff are being asked to come to work every day while so many others are being asked to stay at home. We all need them to keep coming to work to help feed the community – a small thank you goes a long way.
Thank you for your continued custom and support during these testing times.

Darren and David Dadswell.

A. Luff & Sons Ltd - Farm Shop - Ripley Nurseries
Welcomes you to Ripley Nurseries - Garden Centre and Farm Shop we are located on the Old Portsmouth Road coaching route between Cobham and Guildford just 2 miles from RHS Wisley in the Village of Ripley. Our Farm Shop is full of fresh produce and local products with a dedicated Florist and Garden Sundries department. We have been serving the local community since 1895 see our history page and among our patrons we served Sir Winston Churchill at Chartwell and Wimbeldon Tennis grounds.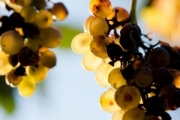 Of all the fruit you can grow in the garden, a grapevine is among the most productive and beautiful. All you need is a sunny wall, fence or pergola for it to scramble up and it'll cheerfully cover the whole thing with big elegant leaves turning brilliant colours in autumn, and of course fat clus…
Read more
Mowing tip
In milder parts of the country where temperatures are now regularly over 5˚C (41˚F) during the day, and where the ground is not waterlogged, mowing can begin. Adjust mower blades to the highest setting to prevent 'shocking' the grass on its first cut of the season. After the first cut, mow once a week (depending on weather), gradually lowering blades until the desired level is met.