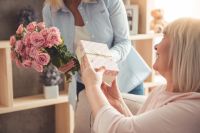 With Mothers Day approaching, it is time to treat the special person in your life and show her how much you care and love her. Sunday, March 14 it's the day we say 'thank you, mom', 'I love you mom' a little more. Our gift guide will help you decide what to wrap up and gift with love to your favourite person. Even if you cannot see her, you can show her how thankful you are to her and post something special to make her day.
1. Flowers
It might be the most obvious, but it is also the most welcome! From bouquets to posies and letterbox deliveries, there are many options. But, in our opinion, there is nothing better than saying 'you are special' with a spring bunch of Daffodils and Tulips plus a gorgeous new vase to put them in. So much colour and joy in a vase from some of our best-loved spring flowers.
2. Gardening accessories
No one can have too many gardening tools and accessories. There are some lovely hand tool gift sets available, or if she needs to get digging, how about a new spade and fork? Then there are gloves, kneeling pads and gardening aprons. Perhaps she needs some new garden pots, seed sowing trays or other gardening items. So many options to show her how special she is.
3. Garden rose
Roses always show how much you love someone, and with so many varieties and incredible colours, there is a Rose for everyone. Why not pick a Rose that has some meaning, such as a particular colour your Mum loves or even one with a name that has a meaning. There is one called 'Mum in a Million', which is a beautiful pink colour. 'Absolutely Fabulous' is a lovely yellow Rose, and there are many more with names that might suit.